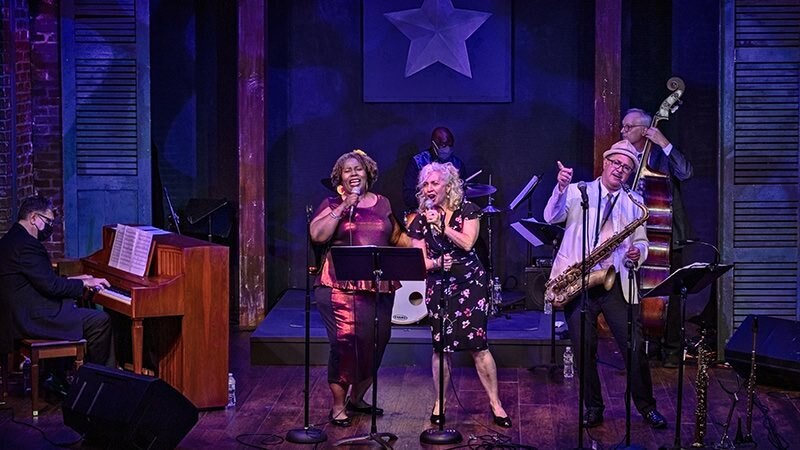 Eleanor Reissa with Paul Shapiro's Ribs & Brisket plays The Music Of The Marvelous Mrs. Maisel
Saturday, May 21, 2022, 7:00PM
Aaron and Cecile Goldman Theater, Edlavitch DCJCC, 1529 16th Street NW, Washington, DC

Join Eleanor Reissa for a talk on her critically acclaimed new book, The Letters Project: A Daughter's Journey, followed by a swinging concert by Paul Shapiro's Ribs & Brisket playing The Music of Mrs. Maisel, featuring Cilla Owens.
She is an acclaimed actress, singer, director, writer, and contemporary Yiddish performer. She kicks off this multi-genre evening with a book talk about big history, the Holocaust, and her contemporary quest to make sense of the senselessness in a rare blend of informative, poignant, honest, humorous, and ultimately inspiring storytelling.
Then, Reissa is joined onstage by Paul Shapiro's Ribs & Brisket featuring Cilla Owens performing the 1950's repertoire that underscores The Marvelous Mrs. Maisel, brought to life with classics originally sung by Reissa, Owens, Sarah Vaughn, Ella Fitzgerald, Peggy Lee, Blossom Dearie, Juliette Greco, Connie Francis, and The Barry Sisters.
This program includes complimentary rugelach, a traditional Jewish dessert made possible for you to enjoy by the Edlavitch DCJCC's Marjorie Watson Serendipity Fund, established in memory of Marjorie Watson and her love, support, and advocacy for the arts at the Jewish Community Center and beyond.
EVENT LINK