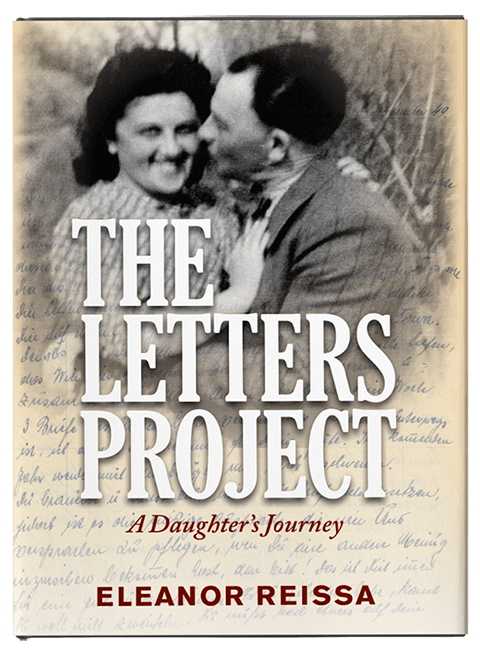 THE LETTERS PROJECT is a tough, honest, and often funny memoir that takes readers on an unexpected mystery tour back in time through Germany and Israel — where the dead speak — in this daughter's journey down the rabbit hole of her family's Holocaust.
Order The Letters Project from your favorite local bookstore or online.
Audiobook
"The Holocaust," Eleanor Reissa writes in this unforgettable and courageous book, ​"is attached to me like my skin and I would be formless without it."
In 1986, when her mother died at the age of sixty-four, Eleanor Reissa went through all of her belongings. In the back of her mother's lingerie drawer, she found an old leather purse. Inside that purse was a wad of dried-up papers in a brittle baggie: fifty-six letters handwritten in German by her father, in 1949 — only four years after Auschwitz — to her mother, also a refugee, already living in the United States.
Forty years later, Eleanor finally had the letters translated.
With her father's letters as her silent guide, Eleanor goes on a journey down the River of Time, unearthing the unknowable about her family's past and her own present.
Praise for THE LETTERS PROJECT
"Among the great number of personal takes on the Holocaust, Eleanor Reissa's book really stands out, both for its intelligence and courage. In this brutal, poignant, and searingly honest book, Reissa manages somehow to find insight and purpose in the ashes. This extraordinary account of two parallel journeys will stick with anyone privileged enough to read it."

— David Margolick, author of The Promise and the Dream: The Untold Story of Martin Luther King, Jr. and Robert F. Kennedy
"In a voice that is pleasantly inflected with Brooklyn/'Yiddishized' English rhythms, Reissa's deft narration is personal, immediate, and worthy listening."

— AudioFile
"This journey of discovery is riveting, told with tender insight, at times heartbreaking and at times heartwarming, just like the Yiddish songs that have delighted Ms. Reissa's audiences."

— Joseph Berger, New York Times reporter; author of Displaced Persons: Growing Up American After the Holocaust
"The Letters Project is a wonderful book — funny, heartbreaking, and ultimately transcendent. Reissa's journey back into her family's past makes for a gripping — and very human — international mystery."

—

Tony Phelan

,

TV

Showrunner for Grey's Anatomy
"Eleanor Reissa has written a gritty, fearless yet funny memoir about herself, her family, and the Holocaust. Once I began reading it, I was completely swept away."

— Julian Schlossberg, American motion picture, theatre, and television producer
"Reissa is a master storyteller, tracking down leads and clues, in search of the truth about her identity, which is bound up in the world her family inhabited before she knew them."

— The Rogovoy Report
"It's a fascinating read. Reissa's voice in the book is earnest and speaks directly to the reader. Her richly detailed and emotional narrative takes us along on her journey to the land of her past."

— Forward